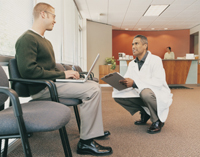 Click Here to contact us or call 770-418-1395 today to begin enjoying your pain-free life.
To find out if ESWT is right for
you please complete our short questionnaire. Upon review someone will contact you regarding your options.
Informational Links:
Learn More About ESWT
Conditions Treatable By ESWT
View An ESWT Video
Frequently Asked Questions
Patients
Georgia Orthopedic Distributors goal is to help direct you to a qualified physician or podiatrist in your area so that you may receive the best treatment options available.
Learn more about ESWT
Extracorporeal Shockwave Therapy or ESWT is a non-invasive procedure used to treat chronic conditions such as Plantar Fasciitis or Heel Spurs, Achilles Tendonitis, Tennis Elbow, Shoulder Tendonitis and other Chronic Tendonpathies. It can be preformed in your physician's office, a surgery center or hospital. We have a mobile service for all of Georgia and the Southeast.
Learn More About Insoles
We are a wholesale distributor of Emsold Foot Care Insoles. Are your dogs barking? Step into an Emsold comfort insole and experience the pleasure of European comfort shoes in your current everyday dress or athletic shoes. We will be happy to put you in touch with a supplier in your area.
Fiore Rx Nail Polish
Not only does toenail fungus affect the health of your nails, it also looks unappealing. Thanks to Fiore Rx, you no longer have to fear that the fungus will spread to your other toes if you use polish. Fiore Rx is the first to create a medicated antifungal toenail polish that contains two active ingredients: Undecylenic Acid and Propolis. This FDA-registered product will keep your nails looking "beautiful on…or beautiful off."
Fungal Free Nails Clear Coat
Small but mighty – this paint on cure can help clear up your little fungus problem by being absorbed slowly through the nail. It works as your nail grows. With just two coats per day, say goodbye to toenail fungus today!
Laser Services for Nail Fungus
Beautiful Laser Nails a division of Georgia Orthopedic Distributors now offers a mobile laser service for the treatment of nail fungus.
In office procedure
Quick
Safe & effective treatment
Virtually painless
No downtime from normal activities
Great alternative to prescription medications
Click Here for more information on Laser Services for Nail Fungus